"Dedicated to the preservation of the Oriental Roller as a Flying - Performing Pigeon."
For Sale
We have FORS T-shirts and Decals available. See pictures below.
The T-Shirts are a white 100% cotton shirt with black print. The print is on either the front or the back of each shirt. Please specify when ordering.
Sizes are SM, MD, LG, XL and XXL.
All sizes are 10.00 each, except the XXL which are 12.00 each
There's two decals available. The round one is 7" round, and the square one is 8.5" square. Decals are 5.00 each.
Please make payable to: Flying Oriental Roller Society
Send all payments to:
FORS c/o
Tony Arcamo
8580 Golden Ridge
Lakeside, CA 92040
619-655-0067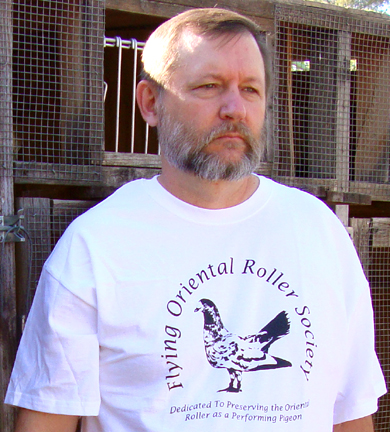 ---
PLEASE INCLUDE A NOTE TELLING US WHAT ITEM YOU ARE PURCHASING and please include your name, address, phone number and email address.
---
The FORS provides picture bands to its members They are aluminum and Plexiglas with consecutive numbers, club name, date of birth and club's email address for contact info in case of a found bird and an FOR image on the band. They are the same color patterns as NPA bands so you can ID the year of the birds by sight. First come, first serve. Available to FORS members only. The background color for the 2013 bands is green.
SOLD OUT OF 2013 BANDS
Contact Roy Cook for more information on shipping. Send payments to: FORS

c/o

Roy Cook, 2301 Rosemont Court, Albany, Georgia 31721 PayPal:

orientalroller@hotmail.com

SOLD OUT OF 2013 BANDS
---